Payment mode
Pay in full
or
30 days Layaway Plan
33% first payment and 33% due every 2 weeks.
We accept Paypal, Bank Transfer, Western Union.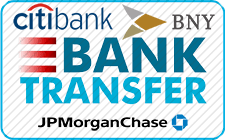 AFTER ORDERING we will send Paypal invoice to you for payment or details for Bank Transfer and WU.

Payment acceptance rules:
1. For Paypal payment from the USA is available payment in Russian Rubles ₽ (equivalent in US dollars) or US dollars.
Usually we try to send PP invoice in USD, but sometimes we can't accept PP payment in USD (Paypal limitation), only RUB.
And we need to pay 5% PP fee in RUB. We do not like it, but we can not do anything.
We save for our customers the opportunity to pay for goods through a secure system Paypal. Thank you for understanding!
2. For Paypal payment outside the USA we accept payment in Russian Rubles ₽ (equivalent in US dollars),
if you want to pay in USD currency please use Bank Transfer or Western Union method.

Paypal (USD, RUR) Bank Transfer (USD) Western Union (USD)
* We cooperate with Citibank NA, JPMorgan Chase Bank NA, The Bank of New York Mellon and others.
Thanks! (if you want to pay by another method, please contact us)

We provide FREE worldwide shipping EMS by courier for orders more 900 USD
And ALL KNIVES we send by EMS post only!
All EMS shipments are insured.
For orders less 400 usd we provide worldwide shipping by economy registering airmail post services 20 USD



If you want other shipping method, or your country is not listed, please contact us.
Exceptions: do not ship knives to Сanada. Thank you for understanding!

Our managers are always ready to answer to all your questions and provide you with the
best service and fast shipment. All products indicated "in stock'', really are in our
warehouse and ready for delivery to the customer. We are open 7/24/365 without vacation.
Time zone ***GMT+3!!!!!***

contacts
If you have any questions or you want to buy a knife, please contact us via
email: rusbladesale@gmail.com or via contact form in Help Center.
Moscow 12 Presnenskaya Nab.
Business Center "Federation Tower"
Rusblade LTD

Est. 2011
Welcome and good shopping!